Beautiful Porcelain Veneers in Louisville, KY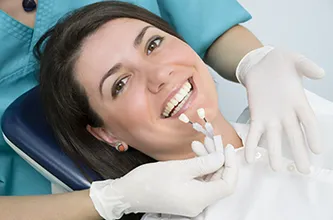 Receive a Natural and Beautiful Smile
Don't be ashamed of your smile! If you have severely damaged, chipped, or broken teeth, Watkins Family Dental offers you a state-of-the-art solution. Restore your teeth to an ideal size, shape, and natural color with porcelain crowns and veneers.
Porcelain crowns restore not only your ability to eat and drink beverages without pain and difficulty but also improving aesthetics. You'll be amazed by your brand-new smile!
Many issues can be corrected almost overnight with veneers. Call to schedule a FREE consultation to find out which service is right for you.
Don't Let Dental Imperfections Hold You Back
Chipped teeth
Cracked teeth
Discoloration
Misalignment
Teeth gaps
Porcelain veneers are a modern, revolutionary dental solution to improve the color, shape and look of your front teeth. There are many temporary solutions out there which provide little to no result, or need to be repaired frequently. Porcelain veneers are different because they produce a dramatically white, beautiful smile that is permanent. Your dentist at Watkins Family Dental in Louisville, KY wants to tell you the facts about porcelain veneers and why they are the state of the art way to improve your smile.
The Versatility of Veneers
Porcelain veneers are one of the most versatile treatments available to fix many esthetic issues with your front teeth. They can restore your smile to greatness by fixing front teeth that are:
Damaged or broken from injuries, accidents or trauma
Cracked, chipped or unevenly worn from aging and other factors
Overlapped or rotated due to genetics and other factors
Spaced or gapped apart or improperly aligned
Heavily stained or discolored from coffee, smoking or medications
Why Do Patient's Choose Veneers?
Porcelain veneers are an investment in your smile that will pay many dividends. These are just some of the reasons why people choose porcelain veneers:
Porcelain veneers are natural-looking. They have a translucent quality that reflects light just like your natural teeth.
They look delicate and beautiful, but they are durable and strong, and will last for many years.
They are stain resistant, remaining sparkling white. They are the perfect choice for smokers and coffee drinkers who still want a white, beautiful smile.
Porcelain veneer treatment is conservative, because very little of precious tooth structure is removed to place the veneers.
Most porcelain veneer treatments require three appointments, the first to treatment plan your new smile, next to prepare your teeth, and the last appointment to cement your new porcelain veneers in place.
Porcelain veneers can correct many major cosmetic issues with your smile, easily and quickly. They are the go-to dental treatment to create a celebrity-perfect smile.
Restore the color, size, shape, alignment and spacing of your teeth with veneers at Watkins Family Dental.
Call our Louisville, KY office at (502) 423-7312 to schedule your appointment today!